Front Desk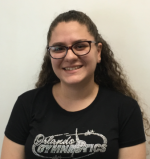 Sofia was born in Mendoza, Argentina and moved to the United States with her family when she was 2 years old. After living in Miami for a few years, her family moved to Orlando where they have lived since.
She has never participated in gymnastics herself, but Sofia has always had a strong admiration for the hard work and dedication that is required of a gymnast.Gymnastics has always been her favorite event to watch at the Olympics (apart from soccer of course!), so she is thrilled to have the opportunity to see it on a daily basis.
Sofia has always had a great interest in the performing arts including orchestra, band, chorus and dance.
Currently, she is studying to become an elementary school teacher and is in the process of attaining her AA degree at Valencia College. Sofia hopes to then transfer to the University of Central Florida to receive her Bachelor's Degree in Elementary School Education and Special Education.