Recreational Gymnastics and Freestyle Coach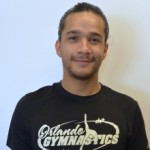 Kevin Ortiz was born in the heart of Kissimmee, Florida on May 31st, 1993. Growing up as a child, he was always free-spirited, with an innate sense of adventure and fascination for the peculiar things in life. By the age of thirteen, Kevin had discovered the art of parkour and free running, a sport that has since then become a part of his lifestyle. Since being a part of Orlando Gymnastics, he has taken a huge interest in gymnastics and has been learning a great deal about the sport. He is thrilled to be a part of the Orlando Gymnastics staff!
Kevin left to Washington, where he started to work at Bothell gymnastics club and an all parkour gym called Move Free Academy. He has learned a great deal about movement and health and aspires to open up his own parkour and Free running gym in the near future and teach how to move pain free longer for the rest of your life and to be strong to be useful.
Certifications:

World Freerunning Parkour Federation Instructor Certificate