Team and Recreational Gymnastics Coach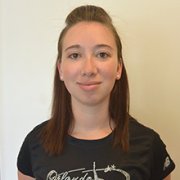 Coach Toni started taking gymnastics classes when she was 6 years old in Jackson, Michigan. After several years of gymnastics, Toni found cheerleading to be a fun sport, and was a part of her school's Competitive Cheer team for four years.
At the age of 15, Toni started her coaching career. She began by teaching younger children and special needs children at her gym in Jackson. She also coached girls in the recreational level, as well as coaching through Level 4 on the team level. Toni still runs into her gymnasts when she returns to her hometown and they all still love her!
Toni has two Associates Degrees and plans to attend school here, in Florida, in the physical therapy field. In her spare time, Toni enjoys visiting Disney, reading, and making crafts.
Education:
A.S. Associates in the Arts, Jackson Community College
A.S. General Education, Jackson Community College
Certifications:


USAG Professional Member
Safety Certified through USAG