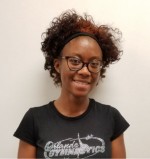 Lyric was born in Columbia, South Carolina and grew up in Atlanta, Georgia where performing ballet, tap dance and Acrobatic gymnastics was a big part of her life.
Lyric taught herself to do numerous tumbling skills, so when her family moved to Orlando she decided to try gymnastics. Lyric was quickly advanced to pre-team and then not too long after, moved up to level 5 to begin competing with Orlando Gymnastics. Lyric has found great inspiration through watching videos of Dominique Dawes and Dominique Moceanu. Lyric competed levels 5, 7, 8 and 9 and received many notable accomplishments. These achievements include 2014 Level 7 State Beam and All-Around champion as well as Region 8, level 7 Vault champion.
Lyric still does gymnastics today, but only as a hobby. She most enjoys using her knowledge and experience to encourage other young gymnasts and help them to achieve their goals.