Team Gymnastics Coach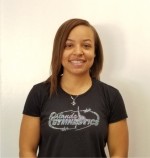 Brianna started gymnastics when she was 6 years old and competed for 11 years in which time she won numerous State floor, vault and all-around titles as well as Regional and National titles. Brianna ended her gymnastics career in level 10 before going to college, due to an injury.
Brianna attended the University of Florida where she graduated with her Bachelor's degree in Family, Youth and Community Services. Throughout her college years, Brianna coached levels 1-10 USAG and XCEL at Gymnastics Unlimited. She also had the pleasure of volunteering at Balance 180 gymnastics & Sports as a coach to gymnasts with various disabilities.
In her spare time, Brianna enjoys working out, playing volleyball and most of all loves supporting her siblings in their sports.
Education
B. S. Family, Youth and Community Services, University of Florida
Certification
USAG Professional Member
First Aid, CPR, and AED Certified
USAG Safety Certified